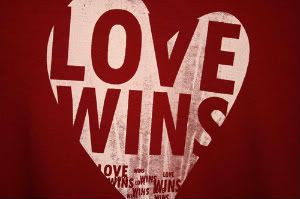 **CONTEST CLOSED**
Love Wins and you can too. I am in love with love and this shirt is definitely feeling it. In honor of Valentine's Day the wonderful Jonathan at
elefint
has agreed to give one lucky reader his inspirational designed, handscreened shirt in your choice of size. When I asked Jonathan exactly what Love Wins means he told me...

"So the big idea behind LOVE WINS. Love is interpreted in a million ways to a million people. Whether it's a love for design, pretzels, shoes, Jesus, the environment, books, or wes anderson movies... at the end of the day, what we want to be doing with our lives is what we love. Or we want to be with who we love. Family. Friends. Spouse. Dog. Not cat. No, cat's are okay. Love truly wins. Life doesn't feel any more complete than when you feel genuine love that you genuinely give. Love always trusts, always hopes, always protects, and perseveres.
LOVE WINS."
(Can I just say awe! Because not only is that so sweet, but he's cute too!)
Thank you Jonathan and elefint for spreading the love!

The Prize
One lucky reader will receive a Love Wins shirt from Jonathan at elefint.

The Details:
Visit elefint's site and tell me one thing about his shirts/totes not mentioned here or let me know which shirt is your favorite. And come back and comment.

Try, Try again... Second Chances:
** Blog about this contest and link back to this post and leave a separate comment.
** Tweet and/or Facebook this contest and in your comment please include the link.
** Follow my Blog or grab my button...and leave a separate comment.

The Nitty Gritty
*Winners are chosen randomly, if you want all your chances counted, make sure you leave individual comments, not all of them in one!
*winner has 48 hours to contact me or another name will be chosen.
*contest ends Saturday, February 7, 9 PM EST. Winner will be posted shortly afterwards.
*open to US Bloggers only
*rules for each entry must be followed to be valid.